Citrix ICA Traffic Optimization with SteelHeads
Citrix ICA traffic is usually transported on TCP port 1494. Citrix ICA traffic is transported on TCP port 2598 if Citrix session reliability is enabled. When you enable Citrix session reliability, the client tunnels its ICA traffic inside the Common Gateway Protocol (CGP) port 2598.
For more information about Citrix session reliability, go to
http://support.citrix.com/article/CTX104147
.
To configure Citrix ICA traffic optimization with a SteelHead
From the SteelHead Management Console, choose Networking > App Definitions: Port Labels and remove ports 1494 and 2598 from the Interactive port label.
Figure 5‑1.
Port Labels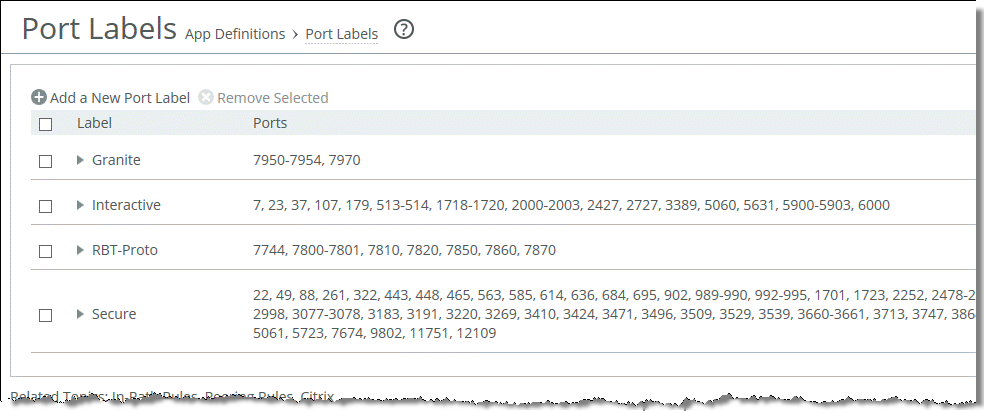 Choose Optimization > Protocols: Citrix.
Figure 5‑2.
Citrix Optimization Settings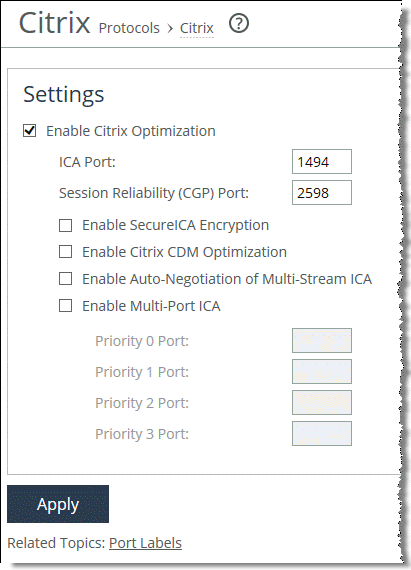 Select Enable Citrix Optimization.
Specify the ICA port and session reliability port.
Click
Apply
to apply the settings to the running configuration.
Restart the optimization service.
You must perform this configuration on both the client-side and server-side SteelHeads.